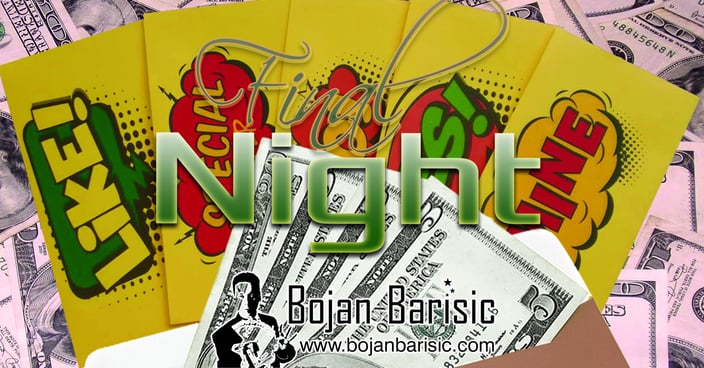 Final Night is my solution to the classic plot in magic - Bank Nite or Just a Chance. This is a very unique solution that uses 2 of my gimmicks to invisible shoot a stack of bills into the final envelope while everyone is watching. No bad angles, nothing to hide, participants have free choice of any envelope. You can show the last envelope from all sides and your hands empty before you pull bills out from envelope. If James Bond used a Bank Nite he would use this one.
2 gimmicks, a set of envelopes and a DVD includeed.
To print your own additional sets of envelopes download the PDF and print it on CB white envelopes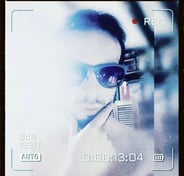 Final Night by Bojan Barisic (Review)
THE EFFECT The performer shows 5 opaque envelopes and explains that only one of them has a special prize of $ 300. He explains to the spectators that they must choose the correct one in order to win the prize. However, after the envelopes are shuffled and four spectators choose different envelopes, none of them contain the bill. Finally, the last envelope is shown to contain the prize, and so, the mind-reader keeps the prize. Final Night is Bojan's solution to this classic plot - Bank Nite. -> The last envelope can be shown from all sides and your hands empty before revealing it. WHAT IS INCLUDED? DVD + Gimmick + Set of Envelopes PERSONAL THOUGHTS I personally think the solution to this type of plot is absolutely brilliant. Bojan did a great job to offer a very practical approach, that is simple to perform. The envelopes and design that come with the effect are cool. Regarding durability, I think it will last a long time, probably your entire life.
RATING Practicality: 9/ 10, Durability: 10/ 10, DVD: 7/10
Final Rating: 8.6 / 10 Highly recommended.
Mentalism Conversation Community